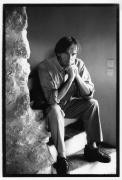 Gérard Rondeau
From the Galeries Nationales du Grand Palais in Paris to the National Gallery of Jakarta, from the Mois Européen de la Photo in the French capital to the Festival de la Luz in Buenos Aires, from the Musée de l'Élysée in Lausanne to the Martin-Gropius-Bau in Berlin, Gérard Rondeau has presented many one-man exhibitions. In Istanbul, New York, Sarajevo, and Rome, he has devised special series.
Rondeau explored the inner workings of museums for twenty years; he chronicled life in Sarajevo during the siege; he produced a portrait of modern Morocco in a brilliant dialogue through time with the paintings and drawings of Delacroix; for fifteen years, he accompanied the missions of Médecins du Monde all over the world. He is also a distinguished portrait photographer: working regularly for Le Monde for more than twenty years, he has assembled a very large collection of portraits of contemporary painters and writers.
For many years Rondeau accompanied the painter Paul Rebeyrolle; he has explored the battlefields of the First World War with the novelist Yves Gibeau; he has visited the world's great concert-halls with the Ysaÿe Quartet; and with the writer Bernard Frank he has surveyed the streets that marked the latter's life.
Rondeau travels in a world of black and white; he follows endless paths, plays with words, shadows and silences, assembles stories and depicts worlds of suffering. The author of numerous works on such subjects as Benin, the cathedrals of France, the capitals of the Baltic countries, and the Tour de France, Rondeau is a photographer of rare and singular gifts. His books and exhibitions resemble personal diaries or novels.
[Gérard Rondeau was awarded best visual artist of the year during the Crystal Globes ceremony in 2007.]