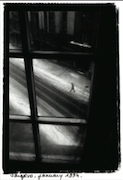 Everything went wrong
Gérard Rondeau
(Sarajevo 1994-2014)
Featuring Zlatko Dizdarevic, former chief editor of the newspaper Oslobdenje and diplomat, author of among others "A war journal" and "The silence and nothing surrounding" (Actes Sud)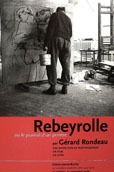 Rebeyrolle, a Painter diary
a film by Gérard Rondeau
DVD Video. Contemporary Art Collection
Edited by Rmn-Grand Palais
PROJECTION AT THE PETIT PALAIS IN THE "DANS L'ATELIER" EXHIBITION"
Deceased the 7th February 2005 at the age of 78, Paul Rebeyrolle was one of the most important French painters of his generation. Gérard Rondeau made this film between 1994 and 1999. It was the first time Rebeyrolle accepted to be filmed at work, in the secrecy of his atelier.
In this unique document on the creator's intimacy, we hear Rebeyrolle talking of great masters of art he likes: Delacroix, Gericault, Rembrandt, Caravage. "Rarely a painter would accept that an outer eye, even of complicity, violates for so many years his creator's intimacy.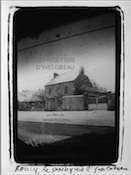 Yves Gibeau's presbytery
a film by Gérard Rondeau
DVD Video
Edited by Sodaperaga
At the end of the eighties, five years before Yves Gibeau's death, Gérard Rondeau arrived at his place unnannounced with an amateur movie camera, asking him to show him his presbytery room by room.
This moment is an exceptional and unique document: Gibeau, who had the habits of the collector, describes his way to rank his library - French and foreigh litterature, his full collection of La Pleiade books, his collections of theater, wat, etc, books. He also shows his personal museum of objects from World War I, collected through his whole life. This is the visit of a singular house of a great haunted by war novelist.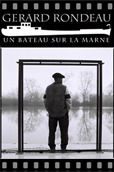 A boat on the Marne river
a film by Gérard Rondeau
DVD Video
Edited by Sodaperaga
In 2010, Gerard Rondeau and his crew spent two months on a barge crossing the longest river of France, the Marne river.
During 45 days, more than 200 hundreds persons from all over the world came on the boat to talk about their conception of the river, but also about poetry, history, memories, life, art, etc.
In a brand new contemporary cinematographic way, Gerard Rondeau offers us a personnal and amazing river movie.



Cabu's life
a film by Gérard Rondeau
France 3, 1986 (with JN Despert)
This is another friendship that leads to an intimate portrait, now disturbing, the portrait of the cartoonist Cabu, who comes back with Gérard Rondeau on the places of his childhood in this 1986 movie, "Cabu's life".





Film about Gérard Rondeau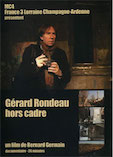 Gérard Rondeau - outside the frame
a film by Bernard Germain
Coproduction France 3 et MC 4, 26 minutes
Gérard Rondeau is placed at the the center of his work, his subjects, his favorite locations (the Chemin des Dames, the Champagne region, Bosnia). Portraitist for the "Le Monde" newspaper, witness of Doctors of the world missions and "outside the frame" reporter for major exhibitions of French national museums, the photographer expresses his ethical positions. This portrait film focuses on his childhood in Champagne vineyard, his friendships (with the writer Yves Gibeau or the painter Paul Rebeyrolle), he reproduces his aesthetic approach and his commitment beside Sarajevo besieged people.