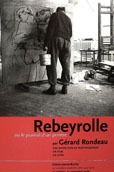 Rebeyrolle, a Painter diary
Gérard Rondeau
DVD Video. Contemporary Art Collection
Edited by Rmn-Grand Palais
NTSC
English subtitles
28€
PROJECTION AT THE PETIT PALAIS, PARIS
(until July 17th in the "Dans l'atelier" exhibition and on May 27th at the Petit Palais Auditorium)
Deceased the 7th february 2005 at the age of 78, Paul Rebeyrolle was one of the most important French painters of his generation, incorporating a wide variety of materials into his painting – dirt, ash, straw, bone fragments, and pieces of wood – in often large-scale works, he aimed at a naturalism which he opposed to realism. Gérard Rondeau made this film between 1994 and 1999.
In long silent shots, he shows Rebeyrolle at work in the secrecy of his atelier. In doing so he reminds us that before being a discourse, painting is a work, a dreamy and hazardous confrontation with matter – and suddenly we get a better grasp of an essential aspect of the art of our times.

We also hear the painter speak about the old masters he loves. At other moments we watch the painter walking alone, ant these are not the least moving moments of the film. This film is the first time Rebeyrolle accepted to be filmed at work in his atelier. It was shot with a small video camera and is a one-of-kind document. Rebeyrolle, a Painter diary could not have been made without the great friendship and sense of purpose shared by Paul Rebeyrolle and Gérard Rondeau.